Influence of Corporate Governance Practices on Financial Distress of Firms Listed at the Nairobi Securities Exchange, Kenya
Abstract
Corporate governance has gained global prominence owing to increasing collapse of major corporations across the world as a result of their financial distress which is a major cause of shareholders' wealth loss, diminishing confidence of investors in the economy and socioeconomic problems. This study sought to establish the influence of corporate governance practices on financial distress of companies listed at the Nairobi Securities Exchange in Kenya for a ten-year period from 2008 to 2017. The effects of three components of corporate governance practices namely board composition (measured by boards independence and diversity), board structure (whose constructs were boards size, tenure and activity) and ownership structure (measured by block, managerial and institutional ownerships) on financial distress of the listed firms was assessed. The study utilized an ex-post facto explanatory research design and analyzed secondary data derived from the audited financial statements and annual reports of the companies. Panel regression analysis techniques and descriptive statistics were used to analyze the relevant data. The study established that board independence had a significant inverse influence on the firms' financial distress while board diversity had a significant direct influence on financial distress. Further, the study established that board activity had a significant direct influence on the firms' financial distress while board tenure had an insignificant influence on financial distress and board size had significant negative effect on financial distress the firms' financial distress. Finally, the panel regression results reveal that the firms' ownership structures namely institutional ownership, block ownership and managerial ownership had a significant negative influence on the financial distress of the firms. The findings of the study provide significant managerial recommendations and valuable insights for further study on the concept of corporate governance.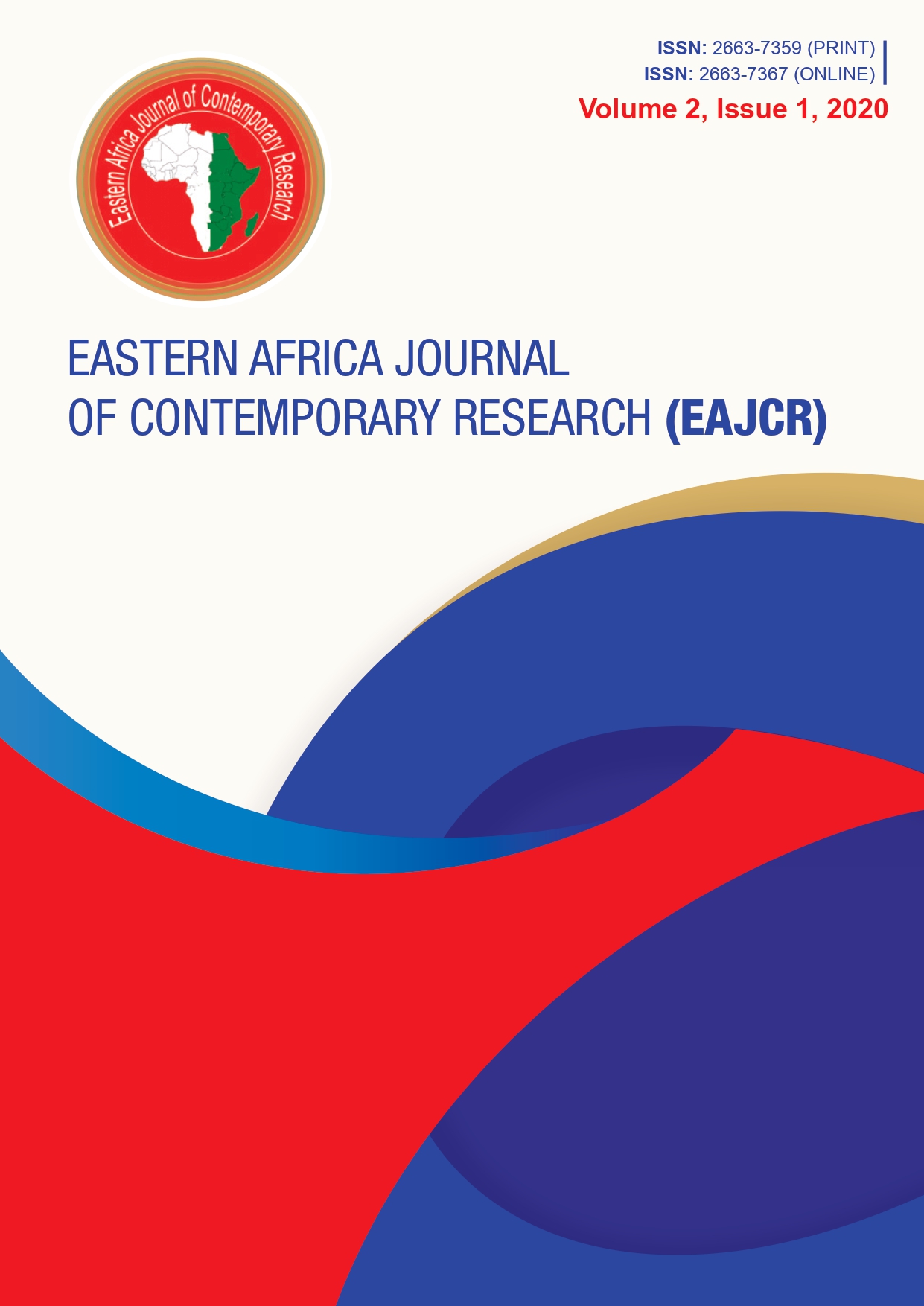 Downloads
How to Cite
Manduku, G. O., Mulwa, J. M., Omolo, J. W., & Lari, L. R. (2020). Influence of Corporate Governance Practices on Financial Distress of Firms Listed at the Nairobi Securities Exchange, Kenya. Eastern Africa Journal of Contemporary Research, 2(1), 1–14. Retrieved from https://eajcr.org/index.php/eajcr/article/view/23
License
You are free to:
Share — copy and redistribute the material in any medium or format
Adapt — remix, transform, and build upon the material
Under the following terms:
Attribution — Users must give appropriate credit, provide a link to the license, and indicate if changes were made. They may do so in any reasonable manner, but not in any way that suggests that you endorse them or their use.
Non-Commercial — Users may not use the material for commercial purposes.
No additional restrictions — Users may not apply legal terms or technological measures that legally restrict others from doing anything the license permits.